Fast, Courteous, Personal, and Professional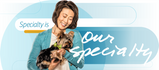 Specialty Pharmacy
Do you get medications mailed to your home for Hepatitus C, HIV, or other high cost medications? You can get those filled at your local independent pharmacy. Getting all of your medications filled at one pharmacy can prevent medication interactions and serious side effects.

Medication Management
We make taking medications easier by offering a MedSync program to get all of your medications filled at the same time of the month. We can also blister pack any medication to help patients know if they have taken medications.

Vaccinations
At our pharmacies we offer an array of immunizations; including, flu, pneumonia, hepatitis, tetanus, and whooping cough. Walk ins welcome and call for any other vaccination.

Free Delivery
All of our pharmacies offer free delivery in the central Texas area.

Pet Medications
We offer a wide variety of prescription and non-prescription pet medications and supplements. For health, hair, hip & joint care, and even gas.